Bar and Beer
Italian design international character
Tecnosteel's Bar line is versatile and responsive to customised furnishing requirements. Today, it is becoming increasingly essential that the quality of equipment is compatible with the furnishing context with a particular aesthetic impact. Tecnosteel's Bar modules fulfil every requirement of avant-garde premises in which a particular character of operational and indispensable efficiency is essential. A good coffee, a great glass of wine or quality beers will be enhanced if they are served with warmth and at the correct temperature and within the right context. Tecnosteel boasts the experience and skills to support customers from design consultancy to installation in Italy and abroad.
Curve Line Bar
DESIGN UNIQUE COMBINATIONS
The CURVE-LINE Bar from TECNOSTEEL is a fully adaptable and multi-purpose modular bar system that can be configured to your precise requirements.
There are numerous possibilities that can be achieved to create your bespoke bar design to follow your unique requirements. The combination of simplicity in installation and its sleek
lines brings together a perfect solution for your project.
Discover typologies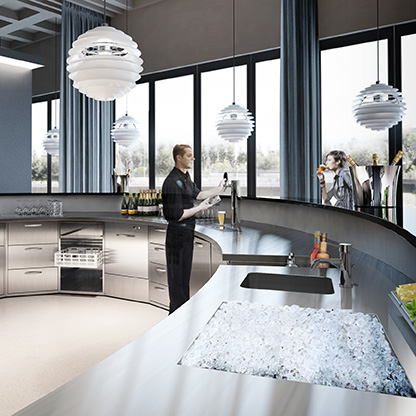 Professional Line
BY THE OPERATOR: "THE EQUIPMENT"
Tecnosteel bar equipment will be the ideal partner for your business. Long-lasting, built entirely in steel, with features designed to facilitate your daily work. Cupboard or open bases, sets of drawers and waste bins, customised work tops, cocktail stations, coffee modules, bottle holders and everything that you need on a daily basis.
Discover typologies
Beer Counter
THERE IS NO BEER WITHOUT "DRAUGHT"
Beer counter and refrigerator for beer kegs of Tecnosteel are completeley in s/s and the back panel foam evaporator ensures duration of the product. The bar counter is suitable to contain bottles and kegs of various sizes. The top unit, with containment edge, can accommodate drip trays with glass rinsers, sinks and refrigerated wells. Can be composed with modules with doors or refrigerated drawers.
Discover typologies