Sushi counter & displays
We offer a range of standard and bespoke sushi and sashimi display modules along with attachment components for preparation. Each unit has been developed with features that have been tried and tested by internationally acclaimed sushi masters in around the world.
Modules consist of the following:
Refrigerated sushi displays: (Three standard sizes available as well
as custom models).
Standard: 1000mm, 1200mm, 1400mm
* Refrigerated ice wells for the display of plated sashimi.
* Preparation sections with built in:
o Wash basin / Sink
o Cutting boards
o Waste bins
o Under counter refrigeration
o Rice warmer / cooker
o Plate storage
Units are built with features to provide powerful cooling performance.
Leading design technology using the latest in material and constriction.
Drop-in modules available with under mounted compressor units to improve aesthetic appearance.
Ice Station
Our refrigerated sushi displays are developed to ensure the freshness of produce and as a focal point when placed within any sushi counter.
Tecnosteel's sushi showcases are designed with UV bonded glass to provide an aesthetic edge while its powerful cooling performance with stable humidity and temperature control keeps sushi fresh without drying the displayed products. Various design and size options are available to ensure flexibility of placement on any counter.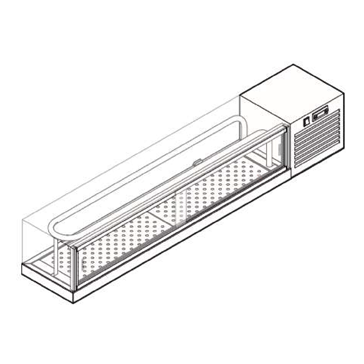 Counter top models with self-contained cooling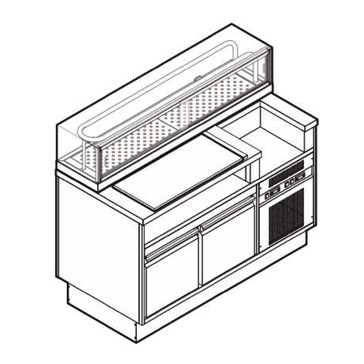 Free standing models with refrigerated storage
Free standing standard models with neutral storage